I wish everyone a happy new year, happier than the last two anyway. Ihope you're staying well and enjoying music from wherever it's coming. My most sincere thanks to you all for signing up for my corner of all this.
Heaven knows there is lots of wonderful new music appearing recently, certainly from our acoustic string music crowd. My friends Bela Fleck, The Punch Brothers, Aoife O'Donovan, Molly Tuttle, Phoebe Hunt, and so many more folks are releasing the fruits of their labors in the workroom, studio, wherever, during lockdowns and quarantines of the last 2 years.
Music has gotten me through the last 2 years.
I've been releasing stuff slowly but steadily as I've been able to, on my Bandcamp page, which is a very good way to obtain new music.
Now I want to let you know that I've got a major release coming up in early March:
The long-awaited sequel in the ongoing Mr Sun saga, entitled Extrovert...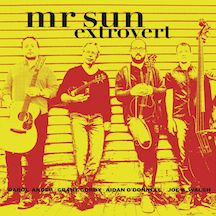 That's kind of a jokey title, since everybody in the band is most definitely NOT an extrovert... even though this recording sure sounds like it. The music itself is jumping out of the grooves, or whatever we're calling them now, screaming "put me in, coach!" Be great to have it out. 
It'll be available on Compass Records soon, and I'm pondering releasing some musical samples of the new thing here on Bandcamp for you, the elect few. Just have to check with the Compass people... they usually like it when an artist does some promo on their own.
Mr Sun will be touring all over the place in 2022 as well, so keep an eyeball peeled for that news, either here or at Mr Sun's website or the Mr Sun Facebook site.
In the meantime, I'm continuing to release silly stuff on my YouTube channel, either in my meditative Water & Light category, or my rather obliquely opinionated (I'm told) rants on fiddling in general.
And I'll be, as always, working on developing and improving my Artistworks Fiddle School, adding lessons, interviews and other fun stuff for fiddlers of any size and shape.
And when I'm ready, I'll release further recordings celebrating the beloved and much-missed Emy Phelps and her great-hearted musical legacy.