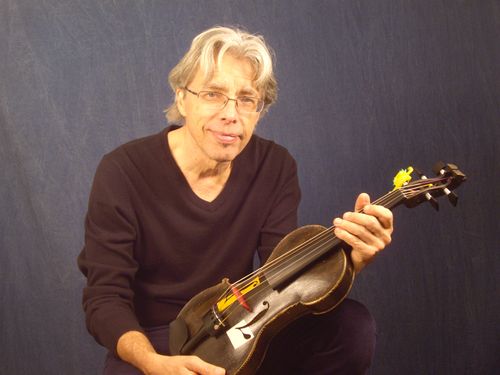 DAROL ANGER: MUSIC EDUCATOR 
One of the most influential fiddlers alive, Darol Anger is an innovative and popular clinician who works with string teachers, professionals and students of all ages in school, university, camp and festival settings across the world, helping grow interest in contemporary improvising and vernacular strings. He helped drive the evolution of the contemporary string band through his involvement with numerous pathbreaking ensembles such as Mr Sun with fellow virtuosos Grant Gordy and Joe K.Walsh, his Republic Of Strings, The Turtle Island String Quartet, The David Grisman Quintet, The Montreux Band, The Anger-Marshall Duo and other ensembles. Darol can be heard on the Sim City soundtracks and on NPR's "Car Talk" theme along with Earl Scruggs, David Grisman, Mike Marshall and Tony Rice.
In addition to performing all over the world since 1977, he has recorded and produced dozens of important recordings, is a MacDowell and UCross Fellow, and has received numerous composers' residencies and grants. He has been a featured soloist on dozens of recordings and motion picture soundtracks.

Anger is Professor Emeritus at Berklee College Of Music, operates his innovative online Fiddle School at Artistworks.com, and spent 1984-1995 doing international touring and jazz string clinics with his Turtle Island String Quartet.  He has taught at The Swannanoa Gathering, Rockygrass and Wintergrass Academies,  Augusta Heritage, the Mark O'Connor, Alasdair Fraser,  Julie Leiberman and  Mike Block String Camps, Amherst College and Interlochen summer programs, and more.

He received a 2020 International Bluegrass Music Association award for Distingushed Achievement for his mentorship and support of young string musicians over the last 25 years.   
He held the string chair of the International Association of Jazz Educators (IAJE) , and was a founding member of IAJE's String Caucus. He has been a contributing editor for Strings Magazine and a member of the Editorial Board of the American String Teacher's Association (ASTA), with over fifteen years of presentations, clinics and performances delivered at ASTA and MENC conventions.   

With his other performing groups at countless music festivals and string camps, he brings over 40 years of experience to teaching and residencies in jazz, blues, fiddle, chamber and orchestra settings. International workshops and clinics include Campo Do Jordao in Brazil, the Music Conservatories at Bremen, Germany and Copenhagen, and the Royal Academy Of Music in Stockholm. 
Darol Anger has a passion for intergenerational education and performance as a way to bridge imaginary borders of age and culture. He envisions a great nation of string players, embodied by The Republic of Strings: a floating intergenerational orchestra that plays music scooped from backyards, garages and kitchens in every continent.
Darol is committed to promoting appreciation of musical diversity and the evolution of personal musical styles based on strong cultural roots throughout the world.